THANK YOU FOR SUPPORTING LETSGOBLUES.COM!
We have decided to hold t-shirt campaigns from time to time with ultra cool custom shirts to help raise money for our site expenses. Woot!
The way the campaigns work is like this...
Depending on the design, there will be a few olor choices to choose from in both Me's & Women's styles.
After you order, the shirts will be printed by the vendor and shipped directly to you. That process typically takes a couple weeks.
Our t-shirt campaigns last about a week or so, and after it is over it may restart right away, (or in the near future)...so if you missed out on a shirt, just check back here soon or check the Letsgoblues.com discussion forums for announcements on when new campaigns begin.
The #roarbacon shirt campaign is order on demand because it is through a different vendor so it is not on the week long campaign schedule the others are on.
We try to keep the price of the shirts as low as we can to make them affordable for you. We do make a buck or two per shirt which helps cover costs associated with the site.
Thanks everyone...and LET'S GO BLUES!
Our Current T-Shirt Campaigns: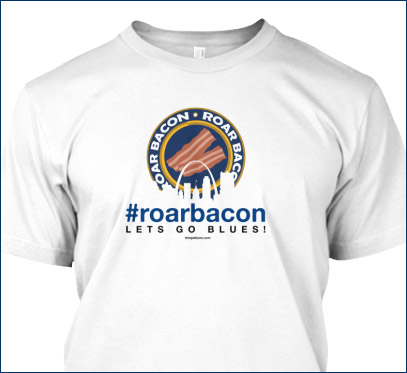 "#roarbacon" Shirt
Men's & Women's Shirts
---
Lets Go Blues Vader Shirt - Lack of Faith

Men's & Women's Shirts

"The Checkerdome" Shirt - Vintage

Men's & Women's Shirts