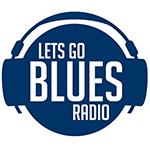 Our next live podcast will be on 3/10/16 at 8:30pm central time.
You can listen live here: www.letsgoblues.com/radio
Bill and I will be discussing the last couple games, the Winter Classic, we'll have Bluenote Sports Bar & Grille Trivia, plus more stuff.
You can send us your Tweets (@lgbradio) or join us live on the air to chat, or just listen in. And if you can't listen live, you can listen later on iTunes or here on this site.