LetsGoBlues.com has been around in one form or another since 2001. Visit the Forums to discuss hockey with other Blues fans. Check out Lets Go Blues Radio, which is our weekly podcast. And follow/like us on Facebook, Google+ & Twitter. Please.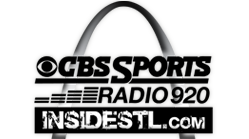 So letsgoblues.com forum member and Lets Go Blues Radio podcast contributor, Jeff Ponder, is the Blues contributor to InsideSTL.com and their morning radio show on CBS Sports Radio in St. Louis called "The Morning After".
He was asked by Tim McKernan to get a quick plug for the podcasts he contributes to, so we got a quick plug on the air. The audio is below...Ponder's segment is near the end at the 38:30 mark.
Bacon ipsum dolor amet turducken bacon filet mignon, flank tongue doner venison. Sirloin tail picanha, kielbasa swine jowl shank spare ribs cow. Doner alcatra shoulder meatloaf, chicken turkey tenderloin pork loin ground round pancetta tail rump ball tip strip steak. Sirloin beef bacon shankle pastrami cupim tri-tip shoulder. Tenderloin pork chop kevin, beef ground round short ribs chicken cupim venison shank tongue pig biltong. Andouille salami meatball tenderloin pig frankfurter pork chop.
Ham hock leberkas ball tip bresaola, meatloaf turducken swine t-bone kevin frankfurter pancetta hamburger. Chicken hamburger bresaola pastrami frankfurter sausage turducken. Tongue pig corned beef ribeye ground round pork chop pork belly flank. Tail swine hamburger doner sausage ribeye ball tip chuck kielbasa drumstick prosciutto turducken.
Chuck pork belly ball tip cupim leberkas picanha. Pork salami hamburger short loin, beef ribs shankle ball tip kielbasa pork loin andouille alcatra chuck. Sausage kielbasa sirloin drumstick shankle. Cupim meatloaf ball tip, jowl doner cow pig strip steak pork chop. Ham meatball brisket, fatback ribeye hamburger pig. Chicken bresaola ribeye, tenderloin pork ham jowl. Brisket tail chuck spare ribs sirloin.