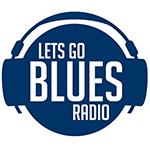 Wow, did we ever discuss a lot of stuff. We packed a lot of stuff into an hour and 40 minutes!
Curt, Bill & Jeff discuss how the deadline acquisitions for the Blues have played, Shattenkirk's pending return, the Blues @ Wild, the Blues @ Wings, Hitch's line juggling, Nashville's struggles, who makes the playoffs in the West, who we want the Blues to play in the playoffs, Tarasenko's defensive zone issues, the proposed rule changes for next season, a couple radio rants, we answer Tweets sent to #lgbradio during the live show, and more.
A special thanks goes out to Blues icon Tom Calhoun for his custom contributions to the show's intro. We are honored.
Don't forget to subscribe to the podast and send us those Tweets! Just include #lgbradio in your Tweet.