Attachment: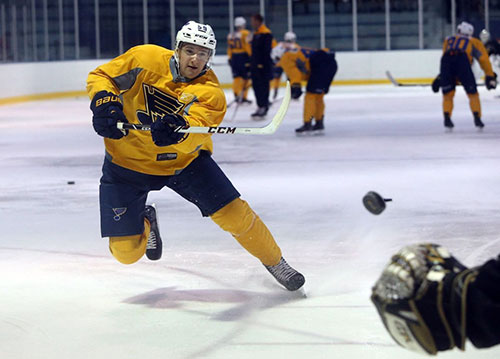 kostin.jpg [ 38.44 KiB | Viewed 190 times ]
TRAVERSE CITY, MICH. • Young right winger Klim Kostin is far enough along with his English that he was able to greet a reporter Saturday night with: "Glad to meet you."
After that he let his agent, Daniel Milstein, serve as Russian-English interpreter on the floor of Centre Ice Arena.
"I'm extremely happy to be here," Kostin said, after the Blues' 7-6 overtime victory over Dallas in the NHL prospects tournament.
"It's the first time after the injury, so I'm slow at getting into the game. Tremendous support from the team and from the teammates and from the coaches. Without them it would be extremely difficult."
But if Kostin's first two games in Traverse City were any indication, he has a funny definition of "slow." The team's Russian import, a first-round draft pick in June, scored a goal in each of the Blues' first two games in the tournament. Sunday was an off day for all eight teams.
Both Kostin goals came on third-period power plays.
(Originally, he was credited with two goals Friday against the Wild, but a second-period goal actually was scored by the team's other 2017 first-round draft pick, Robert Thomas.)
But in the third period of that game, Kostin did score from a near impossible angle to the right of Minnesota goalie Adam Vay.
"This was something I was trained for, prepared at the practices," Kostin said.
It gave St. Louis a 5-1 lead in a game they astonishingly lost 6-5.
Saturday against the Dallas Stars, with the Blues trailing 6-3 in the third period, Kostin got a four-goal rally started with a goal on a quick wrist shot at the 13-minute, 11-second mark.
A smiling Kostin was even less insightful when asked about that score.
"I got lucky today," he said.
While the Blues may have been fortunate that the highly touted Kostin was available at No. 31 overall in the draft, there doesn't seem to be much luck involved when it comes to his hockey prowess.
"At (post-draft) development camp, you could see he's got the skill, he's got the size and the strength," said Barrett Jackman, the former Blues defenseman who's helping coach the prospects team.
"For him to come in here and kind of get his first taste of North American hockey, everybody's eager to see what he brings. But he has the potential to be a very high-end offensive threat."
Playing in the Moscow Dynamo program last year, Kostin suffered a shoulder injury that required surgery. Although he participated in drills at the Blues' development camp, he did not take part in any scrimmages.
The prospects event in Michigan marked his first game action since December. Two prospects games don't make a career, but so far Kostin has been as advertised. Besides his two goals, he had an assist Saturday on a Tage Thompson goal that sent the game into overtime at 6-6.
"I don't want to put expectations too great on a younger player," general manager Doug Armstrong said a few minutes before Saturday's game. "It's gonna be a good first step for him, this tournament. And then see what he does in the main camp.
"But both (first-round) picks from this year's draft showed very good the first time wearing the jersey."
Even so, Armstrong did think Kostin was a little rusty at first Friday against the Wild.
"It looked like he hadn't played since December," Armstrong said. "I thought he got caught in between plays every once in a while. But then as the game when on, his pace and just things came back to him naturally."
"He has a real good sense with the puck, and he wants the puck, too. He's really what you want to see from a management perspective — somebody that wants to make a difference. And he really seemed to want the puck."
That was the case as well Saturday against Dallas, which was a more bruising contest than the opener against Minnesota.
There was a lot of banging and shoving, and even a fight. But Kostin, more physically mature at 6-3, 197 than his age (18) might suggest, didn't back down.
"I've never played this physical game where they have been scoring 12, 13 goals in a game," Kostin said.
When it comes to the goal-fest — 24 combined scores by the teams in the Blues' first two games — not many have. But the smaller NHL-style rinks and the more physical brand of play usually are an adjustment for international players.
"I'm getting used to it," Kostin said. "The game is about the same but playing on a smaller rink is at first a little bit difficult. I've been playing at the international tournaments a few times, so I'm adjusting to playing on the smaller rinks."
As for his new hockey life in the Blues organization, the native of Penza, Russia, and the son of a butcher, said, "I've got tremendous help from the team. I've been anxious because I haven't played in eight months. And finally, I got a chance in St. Louis. I prepared with the main team, so we've been prepared for this tournament."
Kostin, who said his surgically repaired shoulder is "very good," already has seen some of St. Louis since the draft.
"My teammates during the (development) camp helped me and showed me around town," Kostin said. "They took me to Six Flags and some other parks. I'm also looking at the places where I potentially could be getting an apartment soon."
He has yet to visit the Gateway Arch.
"No, because you have to make an appointment to get there and I was too busy to set one up," Kostin said.
Of course, there's no guarantee Kostin will make the Blues roster this season. He could start the year in the American Hockey League.
But eventually, he could be in that apartment — and find time for a ride up the Arch.