You are here:
Home

Radio/Podcast

Lets Go Blues Radio LIVE - Se5, Ep21: When the going gets tough, the tough get Billy Ocean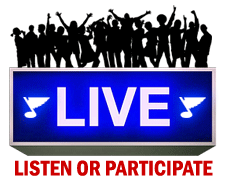 How to Participate
How to Listen Live:
How to Participate:
You will need a Google Account w/Google+ activated. (if you are joining using a smart phone, you'll need the "Hangouts" app installed)
Click on the button to join us under the current show's stream at www.letsgoblues.com/radio.
NOTE: Please have a microphone & headphones ready to go. When you join, be patient and we'll welcome you to the broadcast when the timing is right.
Social Options:
Add us to your Google+ circles and you will be notified and invited to the show when new shows are scheduled. You will also be notified when the LIVE show starts.
Send us a Tweet:
Include #lgbradio, and we'll read it on the air.
Email us: radio@letsgoblues.com