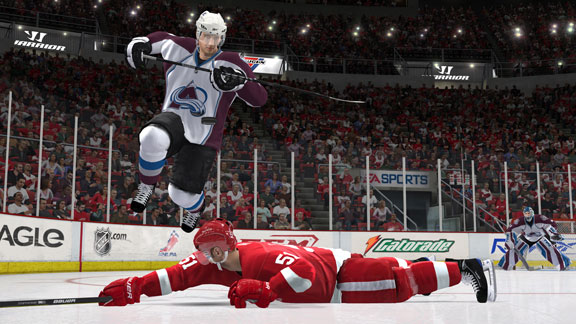 Over the last three years, EA Sports' franchise has won 22 Sports Game of the Year awards from various publications.
So to the game's creative director, David Littman, it doesn't even matter that this year the game faces no direct hockey game competition on the Xbox 360 or PlayStation 3 (2K Sports is only making "NHL 2K11" for the Wii). "Our competition has always been games like 'FIFA' and 'MLB: The Show,'" he explains. "We're not only trying to make the best hockey game out there, we're trying to make the best sports game period.
"That's how we approach the 'NHL' franchise every year. For us, it's not about the hockey category, it's about growing the sport and winning more Sports Game of the Year awards because that means that we're among the best sports games in the world and that's our goal."
So what does the team at EA Sports have planned for the "11" version of their game?
I recently caught up with producer Sean Ramjagsingh to break down the five biggest gameplay improvements hockey heads should expect when the game drops September 7.
1. Real-time physics
Hockey influenced by a boxing game? That's right, as according to Ramjagsingh, when gamers hit the open ice with "NHL 11's" new real-time physics engine, the old adage "went to a fight and a hockey game broke out" will take on new meaning.
"We saw the success that 'Fight Night: Round 4' had implementing the physics into their gameplay and the emerging organic gameplay it represented, really making every fight open-ended. We saw that and knew that's what we wanted for 'NHL 11,'" explains Ramjagsingh. "So we took one of the lead physics producers from 'Fight Night' and brought him over to our game and he's been working day and night getting this real-time physics engine into 'NHL 11.' And the great thing for us, when you think physics and hockey, most people think hits right away, and that's certainly a part of it, but it's really a foundation for all of our gameplay. I'm talking stick on stick contact, stick on puck, the way the puck hits the boards, and even the way the puck hits off the goalie and how if it hits off his chest protector, it's going to react different than when it hits off his pads."
But it's not like they forgot about the hits either as 'NHL 11' will introduce a new hit stick into the game where players can aim to hit their opponents either high or low. "Creatively, the results are amazing," adds Ramjagsingh. "Every hit looks different now because you can hit high or low and with the physics, now you have the chance where the guy goes over you. You can hit a guy into the boards, you can clip a guy and get knee-on-knee collision, and every one is different. We're really, really moving away from the confines of animation now. In 'NHL 10,' if you hit a guy and got a big hit, within minutes, somebody else playing the game would see the exact same hit. In 'NHL 11' you're going to create hits in the game that potentially, nobody else will ever see again."
2. Broken Sticks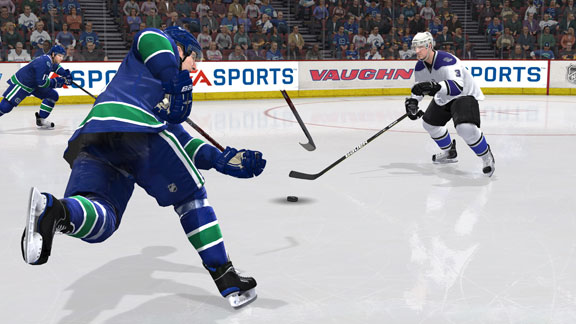 "Over the past three years, broken sticks is one of the most requested features," says Ramjagsingh. And with "NHL 11," EA Sports is finally delivering. "We've talked about doing it every single year, but when we implement a new feature like this, we want to do it right, so for 'NHL 11,' we got it right.
"You can break a stick, and it's the physics determining when that stick breaks, and then that stick is on the ice and it's a live object on the ice interacting with skates, sticks, and the puck. So you can be coming down with a 2-on-1 with a broken stick on the ice and when you pass it across, the puck hits that broken stick and breaks up the play.
"The other big thing for us is total user control, so even when you break your stick, you can still make plays. You can kick the puck to a teammate, drop down to block a shot, and of course, still throw hits. And in hockey, if you're a defenseman and you break your stick in the defensive zone, your forward will come back and hand you a stick. So we've added that into the game as well. Your forward will come back and pass you his stick, and if you're playing in the EA Sports Hockey League, you can actually pass your stick to a teammate."
3. Faceoffs
"We haven't worked on improving faceoffs for a few years," admits Ramjagsingh, and if you listen to the various wish lists of hockey gamers, that is one area the franchise clearly needs improvement. "Puck possession in the offensive and defensive zone is such a big part of the game in general and something we wanted to focus on this year. It's all about giving the user full control in the faceoff circle, and that means giving him control of his stick and allowing him to tie-up other players and attack another player's stick. A lot of times you'll see a guy slash his opponent's stick away and then take the puck, so again, we leverage that real-time physics engine to recognize that stick-on-stick contact to knock that stick away and then pull the puck back.
"And with the really skilled guys, you can even knock the puck between your opponent's legs and go get it on the other side."
To top things off, gamers will also be able to shoot the puck off the draw, enabling you to either shoot the puck at the goalie, or, if you're in the defensive zone, you'll be able to shoot the puck down the ice in order to clear.
4. New Dekes
Now that the goons in the game have the ability to aim either high or low on their hits, the producers at EA Sports decided that it was also time to give the players with the puck a way to counter. "So now when you're skating," says Ramjagsingh, "by holding the left bumper while flicking the right stick either left, right, up, or down, you'll perform four different dekes.
"If you played a lot online, you'd see guys lying down on the ice all the time on defense, and that's something you'd never see in real hockey because some guy would just take a slap shot to your head or step on you. So this year we added a counter where if you hold the left bumper and flick up on the right stick, you can actually jump over the guy. I've seen a couple of goals over the last few years where a guy jumped over someone and as he landed shot the puck and made it into the net. Those are the goal of the year, highlight of the year type plays and it's very cool when you see it in the game.
"But none of these dekes are gimmicks. They're all counters to what people can do defensively. You can drop the puck down to your skates, and that's a counter to guys who like to poke check. The quick dekes left or right are a great counter to the guys who like to hit. These all just add to the overall gameplay balance on the ice."
5. Compromising Positions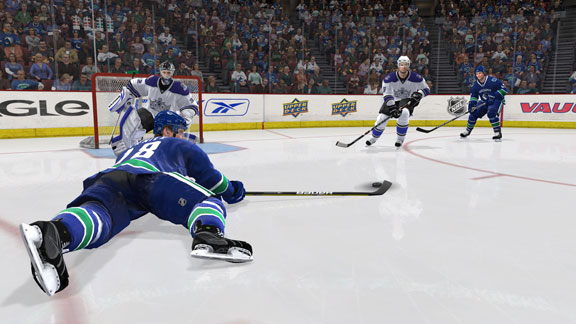 Alex Ovechkin became a YouTube sensation by scoring a goal while sliding on his back. "That's probably the most famous goal where somebody scored from a compromising situation," says Ramjagsingh. "These are the types of plays that become Sportscenter moments. And now in the game, when you get knocked over, you can still take a swipe at the puck. It's all physics, so you tell your character to swipe at the puck, and with the real-time physics, if your stick makes contact with the puck, the game is going to recognize the contact and you might just recapture that Ovechkin magic.
"You can now shoot the puck from your back or your stomach, or you can pass the puck to a teammate and watch as he finishes it off. These are those unscripted, wild moments everyone has always wanted to see in the game, and with 'NHL 11,' we are delivering big time. And because these moments are organic, you can make a play that nobody else ever will in the history of the product and that's pretty amazing for us to be able to say.