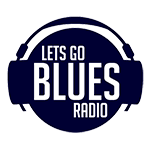 Just an FYI...
A number of you tuned in to our STL Blue Radio podcast last season before the band suddenly broke up.
But there are serious rumblings about us starting this back up again...so serious in that studio space has been semi-secured and record dates are being discussed.
Jeff Ponder, Jeff Quirin and myself will be in studio. We had a lot of fun last year, so we are all looking forward to doing it again.
If this happens, we'll likely be recording next week and putting the podcast out a day or two before the season starts. The name will be changed to "Lets Go Blues Radio" and hosted here at LGB.
It will at least be an every other week podcast, with the end goal to have a one-hour show every week.
Stay tuned for links and show information.
And if anyone is interested in being a sponsor of the show, feel free to contact me, we are gathering sponsors as we speak.
And if you have suggestions for the show, feel free to share.